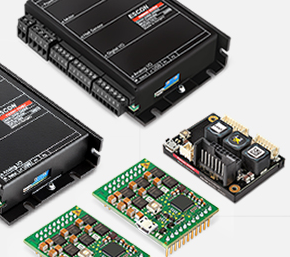 Maxon Controllers
Intelligent control electronics: All current, speed and position controllers are specially designed for brushed DC and brushless DC motors up to 1000 W. CANopen or EtherCAT allow for easy integration of your network.
The ESCON 4-Q servo controllers provide power and highly precise speed control for maxon brushed DC and brushless DC (maxon EC) motors , in a compact design. For simple speed control applications of brushless DC motors, we offer 1-Q servo amplifiers with a modular design available. All amplifiers feature a variety of useful additional functions.
When more than just speed and torque control is required and recurring positioning processes with complex trajectories have to be executed use maxon positioning controllers. With the EPOS2 and EPOS4 (Easy Positioning System) controllers, a modular product line is available for DC brushed and brushless motors. The newest addition to the high-performance range of positioning controllers are the MAXPOS controllers.